Elvis Home

›

Graceland

›

Elvis News

›

Elvis Biography

›

Elvis Interviews

›

Sitemap

›

Loving You director Hal Kanter dies at 92
By: Elvis Australia
Source: Los Angeles Times
November 8, 2011
Hal Kanter
, an Emmy Award-winning comedy writer, and a director and producer whose career included writing for Bob Hope and
Bing Crosby
, directing Elvis Presley and creating a landmark 1960s TV series starring Diahann Carroll, has died. He was 92. He directed Elvis Presley in the 1957 movie
Loving You
, which Kanter co-wrote and he wrote the screenplay for Elvis Presley's 1961 film
Blue Hawaii
.
Among his movie credits as a writer are Bob Hope and Bing Crosby's 'Road to Bali', Hope's 'Bachelor in Paradise' and Dean Martin and Jerry Lewis' 'Money from Home' and 'Artists and Models' - as well as the movies 'Pocket Full of Miracles' and 'Move Over, Darling'. Kanter's longest-running writing job was the annual Academy Awards ceremony. Beginning in 1952, a year before the broadcast moved from radio to television, he wrote for the Oscar show at least 33 years. In 1991 and 1992, Kanter was among the Oscar show writers who shared Emmys for outstanding writing in a variety or music program.
Hal Kanter : I spent some time with him [Elvis] before he came out to do 'Loving You'; I got to know him a little.
It was when he was giving a tremendous concert in Shreveport, Louisiana -- the first of his many 'farewell concerts'. I went with him from Memphis to Shreveport, and a lot of what I observed there, I went back and rewrote and put in the picture. That was one of the primary reasons that I went to Memphis, not only to meet Elvis himself, but also see him in action and to learn as much about his method of operation as I possibly could and eventually to incorporate some of what I'd learned in the film itself. One of the things that really impressed me was the fact that we arrived in a Cadillac. Bill was driving.
And thousands of kids evidently recognized it as Elvis' car. And they swarmed around the car. And I was sitting in the back seat. They were all trying to see who I was. And of course they had no idea who I was. It was a frightening experience. Till finally, he was able to get out and say, 'Just relax, kids. That's Elvis' director from Hollywood. We're going to go to make a movie.'The evening of the concert was another eye opener to me. I had never seen so many flash bulbs in my life. The place was jammed. And the audience itself was making so much noise that they couldn't even hear what the man was singing,it was amazing.
I thought. It was absolutely spectacular even for me. The kids in the audience went crazy over him, and, as a matter of fact, I think I did get a lot of it on the screen in 'Loving You'.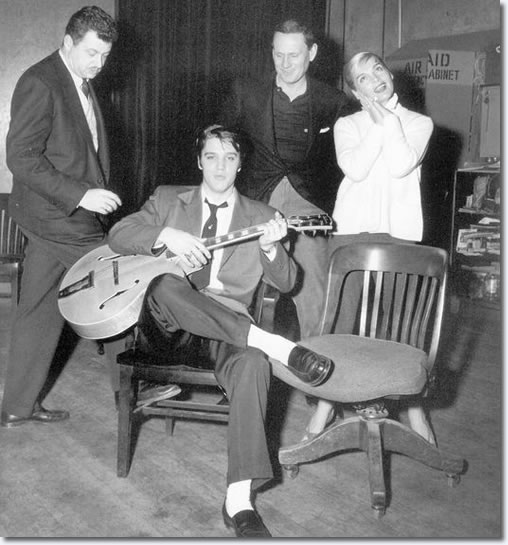 Hal Kanter, Elvis, Wendell Corey, Lizabeth Scott.
Elvis Presley : Inside Loving You

Loving You : Paramount 1957
Loving You DVD

Loving You FTD Special Edition 2 CD
Love Me Tender

Loving You

Jailhouse Rock

King Creole

G.I. Blues

G.I. Blues Recording Sessions

Flaming Star

Wild In The Country

Blue Hawaii

Follow That Dream

Girls!, Girls!, Girls!

Fun In Acapulco

Viva Las Vegas

Roustabout

Girl Happy

Tickle Me

Paradise Hawaiian Style

Spinout

Speedway

Charro!

Change Of Habit

Ann-Margret and Elvis Presley
© Copyright 2019 by www.elvis.com.au & www.elvispresley.com.au
https://www.elvis.com.au/presley/news/loving-you-director-hal-kanter-dies-at-92.shtml
No part of any article on this site may be re-printed for public display without permission.
Never before have we seen an Elvis Presley concert from the 1950's with sound. Until Now! The DVD Contains recently discovered unreleased film of Elvis performing 6 songs, including Heartbreak Hotel and Don't Be Cruel, live in Tupelo Mississippi 1956. Included we see a live performance of the elusive Long Tall Sally seen here for the first time ever. + Plus Bonus DVD Audio.
This is an excellent release no fan should be without it.
The 'parade' footage is good to see as it puts you in the right context with color and b&w footage. The interviews of Elvis' Parents are well worth hearing too. The afternoon show footage is wonderful and electrifying : Here is Elvis in his prime rocking and rolling in front of 11.000 people. Highly recommended.
Tupelo's Own Elvis Presley DVD Video with Sound.