Elvis Presley's Epitaph & Eternal Flame Memorial
By: Janelle McComb
Source: www.elvis.com.au
July 24, 2009
Elvis Presley's Epitaph & Eternal Flame Memorial
Following is the wording of Elvis' epitaph as seen on his tombstone, written by Janelle McComb.
Commissioned and directed by Elvis' father Vernon Presley:
Elvis
Aaron
Presley
January 8, 1935
August 16, 1977
Son of
Vernon Elvis Presley
and Gladys Love Presley
Father of
Lisa Marie Presley
He was a precious gift from God
We cherished and loved dearly.
He had a God-given talent that he shared
With the world. And without a doubt,
He became most widely acclaimed;
Capturing the hearts of young and old alike.
He was admired not only as an entertainer,
But as the great humanitarian that he was;
For his generosity, and his kind feelings
For his fellow man.
He revolutionized the field of music and
Received its highest awards.
He became a living legend in his own time;
Earning the respect and love of millions.
God saw that he needed some rest and
Called him home to be with Him.
We miss you, Son and Daddy. I thank god
That He gave us you as our son.
By: Vernon Presley
Eternal Flame Inscription
A group of Elvis' close associates paid for and placed an eternal flame at the head of Elvis' tombstone.
The inscription by Janelle McComb is on its base, followed by the names that are inscribed on the sides:
TO ELVIS IN MEMORIUM
You gave yourself to each of us in
some manner. You were wrapped in
thoughtfulness and tied with love.
May this flame reflect our never
ending respect and love for you.
May it serve as a constant reminder
to each of us of your eternal presence.
Tommy Henley
Jerry Schilling
Letetia Henley
Dean Nichopoulos
Patsy Gambill
Dr. Geo. Nichopoulos
Al Strada
Janelle McComb
Felton Jarvis
Joe Esposito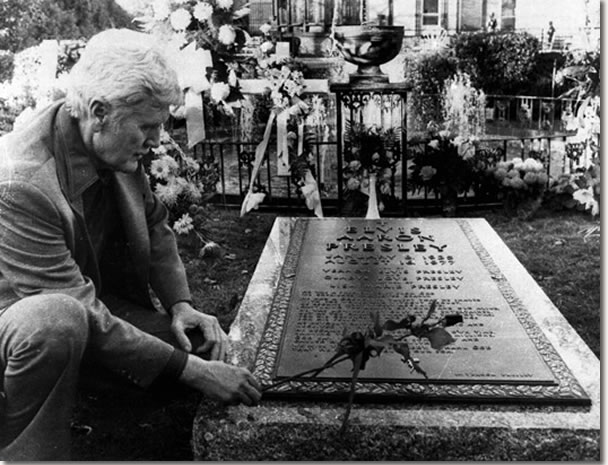 Vernon Presley, Elvis Presley's father, places a rose on his son's grave Nov. 24, 1977, as newspeople were permitted inside the grounds at Graceland in Memphis, Tenn., for the first time since Elvis' funeral.
Photos : August 16-19, 1977


The Death Of Elvis Presley - August 16, 1977


Elvis' Funeral Procession August 17, 1977


Elvis Presley Phenomenon Becomes History : Forest Hill Cemetery on Aug. 18, 1977

Elvis dies and the age of Rock is over

Elvis Presley Dies at 42

Elvis' Last Will And Testament

A Broken Heart... Hastened Death

World's At Standstill For Elvis' Fiancee

Firemen's Call To Graceland Was Anything But Routine

Kathy Westmoreland Remembers August 16, 1977

Elvis Presley & The Events Of 1977

The Priceless Gift : To Lisa Marie from Daddy
© Copyright 2023 by www.elvis.com.au & www.elvispresley.com.au

https://www.elvis.com.au/presley/elvis-presleys-epitaph.shtml
No part of any article on this site may be re-printed for public display without permission.

Never before have we seen an Elvis Presley concert from the 1950's with sound. Until Now! The DVD Contains recently discovered unreleased film of Elvis performing 6 songs, including Heartbreak Hotel and Don't Be Cruel, live in Tupelo Mississippi 1956. Included we see a live performance of the elusive Long Tall Sally seen here for the first time ever. + Plus Bonus DVD Audio.
This is an excellent release no fan should be without it.
The 'parade' footage is good to see as it puts you in the right context with color and b&w footage. The interviews of Elvis' Parents are well worth hearing too. The afternoon show footage is wonderful and electrifying : Here is Elvis in his prime rocking and rolling in front of 11.000 people. Highly recommended.
Tupelo's Own Elvis Presley DVD Video with Sound.